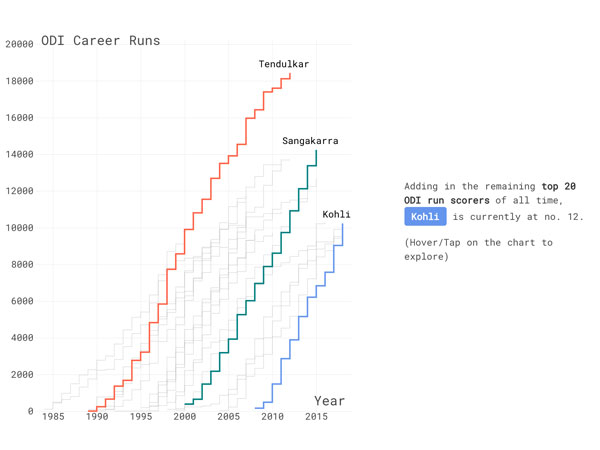 Kohli's path to 10,000 ODI runs, charted
October 2018
With back-to-back centuries against the West Indies, Virat Kohli breached the 10,000 ODI run milestone, a feat accomplished by only 12 batsmen in the history of the game of cricket.
Let's chart out his progression over the years and compare it with the other top ODI run scorers of all time.
The chart here shows Virat Kohli's total ODI career runs by year.
Since featuring regularly in ODIs from 2010, he has scored more than 1000 runs almost every year.
Adding in the other top 20 ODI run scorers of all time, Kohli is currently at no. 12.
(Hover/Tap on the chart to explore)
When it comes to just chasing down targets, Kohli leaps past 10 batsmen to the no.2 spot, only behind Tendulkar.
Looking at age - Kohli and Tendulkar are head and shoulders above the rest, with Kohli pretty much tracking Tendulkar's curve, just shifted out by 1-2 years.
However, with the rise of T20 cricket in the last decade, Kohli plays less ODIs per year than batsmen of the previous era such as Tendulkar.
And so, on runs scored by innings, Kohli hits the 10,000 run mark in 205 innings, a full 54 innings less than Tendulkar.
Thats 26% faster than the next fastest to 10,000!
Now explore the data for the top 20 ODI run scorers here.
To get started, how does Dhoni have such a high average despite not being as prolific a run-scorer?
Data Source: ESPNCricinfo